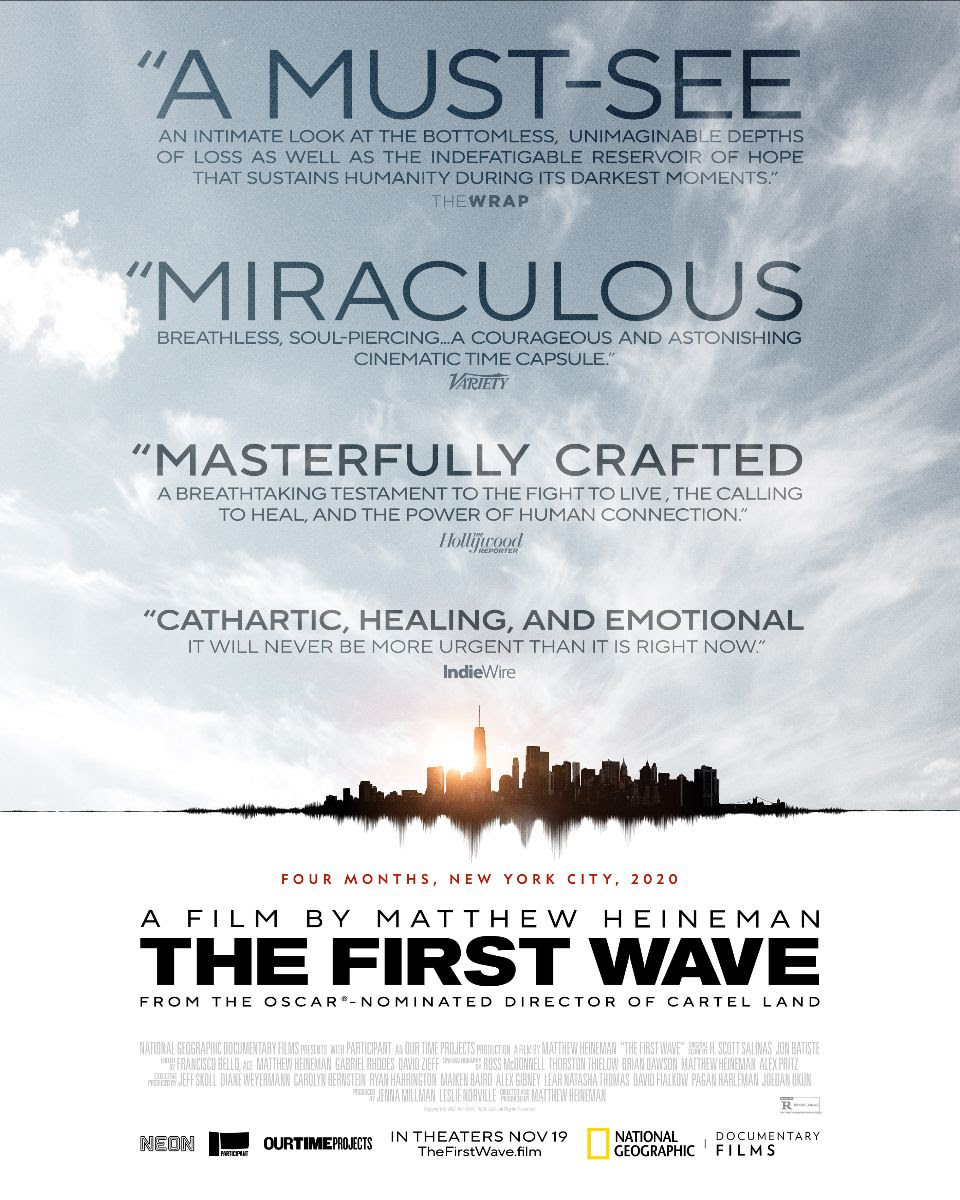 The First Wave 2021

Directed by Matthew Heineman
Produced by Matthew Heineman, Jenna Millman, Leslie Norville
Executive Produced by Maiken Baird, Alex Gibney, Jeff Skoll
Production Company National Geographic Documentary Films
Distributed by Neon

Director Matthew Heineman, who has fearlessly documented the brutality of Mexico's drug cartels and the atrocities of ISIS, turns his attention to COVID-19, the deadliest enemy ever fought on American soil.

Filmed in the earliest days of the pandemic in one of the hardest hit hospitals in New York City, Heineman was given extraordinary access to the frontline workers and patients fighting for their lives against a ruthless and barely understood plague.

With lucid empathy, Heineman centers his story around a trio of medical workers whose courage buoyed the lives of their patients and families in the midst of heartbreaking chaos. A visually stunning and deeply affecting journey, The First Wave illuminates the darkness of our recent past through the eyes of the heros who saw us through.


"A vital piece of historical record that bravely captures the unseen horrors of the pandemic and a generous celebration of human dignity whose existence feels miraculous."
Variety
"Heineman's pandemic film is every bit as visceral and harrowing as you might expect from someone accustomed to making documentaries that he may not survive...This is a documentary that unashamedly wants to light up our emotions; it wants to rekindle the fires inside of us that may have burned out after being exposed to so much preventable death; it wants us to feel a sliver of the same fury and impotence and eventually, occasionally, mercifully, even the same catharsis that frontline workers were confronted with every day when this nightmare was at its worst."
IndieWire
"Matthew Heineman's intensely intimate documentary arrives as a graphic and emotional reminder of the early days of the crisis, in all its confusion and horror...An unforgettable look at how, in the earliest weeks of a monstrously unfamiliar storm, some of the bravest among us persevered."
The Hollywood Reporter