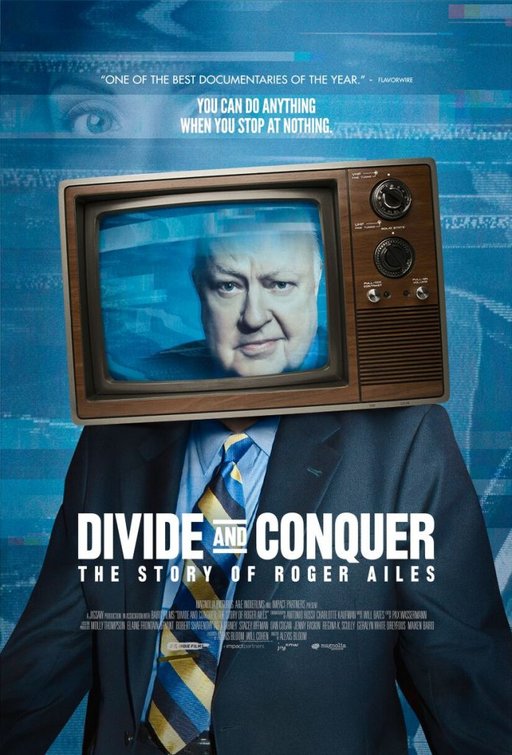 Divide and Conquer: The Story of Roger Ailes 2018

Directed by Alexis Bloom
Executive Producers Maiken Baird, Alex Gibney, Molly Thompson
Distributed by Magnolia Pictures, A&E Indiefilms

World Premiere Toronto International Film Festival 2018

Filmmaker Alexis Bloom delves into the rise and fall of Roger Ailes, the Republican Party kingmaker and controversial Fox News mogul who went down in flames amid multiple sexual harassment allegations before his death in 2017. As engrossing as it is deeply disturbing, the film deftly fuses the personal, the political and the just plain surreal. Ailes was a key media consultant to Presidents Nixon, Reagan and George H.W. Bush, powerfully shaping American political history over the last fifty years. He went on to create a ratings powerhouse at Fox News, with more viewers than all its direct competitors combined. Divide and Conquer is the riveting origin story of one of the most powerful and divisive figures in American media, as well as a clear-eyed look at how we got where we are today.



---
Hamptons International Film Festival
Winner, Golden Starfish Award, Documentary Feature

Primetime Emmy Awards
Nominee, Exceptional Merit in Documentary Filmmaking

"This is the acid test for a good journalistic documentary: No matter how far back it reaches,
Divide and Conquer
always feels as if it's in the present tense."
New York Magazine
"A shocking, well-researched and richly observant documentary from Alexis Bloom about the climate of lies and systemic sexual abuse that allowed the bad behavior of Fox News chief Roger Ailes to flourish until his victims said Time's Up."
Rolling Stone
"This is one action-packed doc, so to speak, replete with eyebrow-raising factual tidbits."
RogerEbert.com
"You leave
Divide and Conquer
energized and incensed, and with a grudging admiration for Ailes's pugnacious instincts. It feels deeply uncomfortable that he might have wanted it that way."
New York Times
"Meticulous and highly watchable."
Washington Post